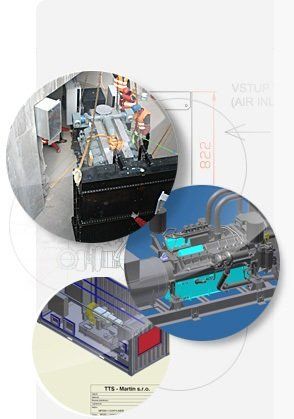 SERVICES
With the goal of giving complete services in sphere of generating sets and cogeneration units TTS Martin, s.r.o. company offers to its customers much more services than just producing gensets. These are:
Studies
Designing studies to build generating set systems or energocentres with offer of optimal solution for given problem including approximate calculation of the price of completing the system. Measurement of electric values to get the best performance of the system.
Projects
Elaboration of complete documentation for realization of the installation of our gensets. Close cooperation with our designers when integrating our products to ongoing projects with requirement of generating set systems or energocentres.
Installations
Professional installations, testing and commissioning of our products with possible turn-key deliveries.
Service
Qualified and professional performance of warranty and after-warranty service, contractual maintenance and repair works on gensets and cogeneration units including supply of the spare parts.
Genset rental
Possibility of genset rental according to customer requests.