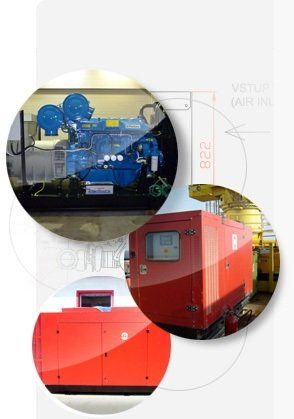 INDUSTRIAL GENERATING SETS 16 – 3400 KVA
Gensets in power range from 16 kVA to 3400 kVA are based on water cooled combustion engines connected with synchronous alternator. This monoblock is mounted on the base frame through vibration dampers and equipped by the basic accessories.
Our gensets are professionally made with lot of optional equipment. High quality synchronous generators from worldwide producers are used to produce electricity from engine crankshaft rotational movement. Gensets are especially designed for difficult work conditions and for special customer requests. Every genset in this range can be equipped by remote control, automatic control panel for cases of blackout of the mains (automatic backup sources), control panel for parallel operation with other genset or with the mains or other special control panels according to customer request.
Every genset could be fitted into lockable noiseproof canopy or container designed for outdoor installation.
Gensets in power range 16 - 48 kVA with diesel engines Kohler (3000 rpm)
Gensets in power range 30 - 660 kVA with diesel engines FPT / Iveco (1500 rpm)
| Genset type | Stand-by power (ESP) | Prime power (PRP) | Engine | Emission norm |
| --- | --- | --- | --- | --- |
| MP 30 I | 34 kVA / 27 kW | 31 kVA / 25 kW | S8000 AM1 | none |
| MP 30 I-3 | 34 kVA / 27 kW | 31 kVA / 25 kW | F32 SM1F | EU Stage III.A |
| MP 50 I | 55 kVA / 44 kW | 50 kVA / 40 kW | N45 AM2 | none |
| MP 60 I | 66 kVA / 53 kW | 60 kVA / 48 kW | N45 SM1A | EU Stage II |
| MP 60 I-3 | 66 kVA / 53 kW | 60 kVA / 48 kW | N45 SM1F | EU Stage III.A |
| MP 70 I | 83 kVA / 66 kW | 75 kVA / 60 kW | N45 SM3 | none |
| MP 80 I | 92 kVA / 74 kW | 85 kVA / 68 kW | N45 SM3 | none |
| MP 80 I-3 | 91 kVA / 73 kW | 85 kVA / 68 kW | N45 TE1F | EU Stage III.A |
| MP 100 I | 110 kVA / 88 kW | 100 kVA / 80 kW | N45 TM2A | none |
| MP 100 I-3 | 110 kVA / 88 kW | 100 kVA / 80 kW | N45 TE2F | EU Stage III.A |
| MP 125 I | 136 kVA / 109 kW | 125 kVA / 100 kW | N45 TM3 | none |
| MP 130 I | 150 kVA / 120 kW | 135 kVA / 108 kW | N67 TM4 | none |
| MP 130 I-3 | 145 kVA / 116 kW | 132 kVA / 106 kW | N67 TM1F | EU Stage III.A |
| MP 150 I-3 | 165 kVA / 132 kW | 150 kVA / 120 kW | N67 TE1F | EU Stage III.A |
| MP 175 I | 190 kVA / 152 kW | 175 kVA / 140 kW | N67 TM4 | none |
| MP 175 I-3 | 190 kVA / 152 kW | 175 kVA / 140 kW | N67 TE2F | EU Stage III.A |
| MP 200 I | 225 kVA / 180 kW | 205 kVA / 164 kW | N67 TM7 | none |
| MP 200 I-E | 225 kVA / 180 kW | 205 kVA / 164 kW | N67 TE2A | EU Stage II |
| MP 200 I-3 | 225 kVA / 180 kW | 205 kVA / 164 kW | N67 TE3F | EU Stage III.A |
| MP 250 I | 275 kVA / 220 kW | 250 kVA / 200 kW | N67 TE8W | none |
| MP 275 I | 297 kVA / 238 kW | 270 kVA / 216 kW | C87 TE1D | EU Stage II |
| MP 275 I-3 | 297 kVA / 238 kW | 270 kVA / 216 kW | C87 TE3F | EU Stage III.A |
| MP 300 I | 335 kVA / 268 kW | 305 kVA / 244 kW | C87 TE4 | none |
| MP 300 I-3 | 330 kVA / 264 kW | 300 kVA / 240 kW | C10 TE1F | EU Stage III.A |
| MP 350 I | 385 kVA / 308 kW | 350 kVA / 280 kW | C13 TE2A | EU Stage II |
| MP 350 I-3 | 382 kVA / 306 kW | 346 kVA / 277 kW | C13 TE1F | EU Stage III.A |
| MP 400 I | 450 kVA / 360 kW | 410 kVA / 328 kW | C13 TE3A | EU Stage II |
| MP 400 I-3 | 440 kVA / 352 kW | 400 kVA / 320 kW | C13 TE2F | EU Stage III.A |
| MP 450 I | 485 kVA / 388 kW | 440 kVA / 352 kW | C13 TE6W | none |
| MP 500 I | 540 kVA / 432 kW | 490 kVA / 392 kW | C13 TE7W | none |
| MP 600 I | 660 kVA / 528 kW | 600 kVA / 480 kW | CR16 TE1W | none |
Gensets in power range 200 - 830 kVA with diesel engines Doosan (1500 rpm)
| Genset type | Stand-by power (ESP) | Prime power (PRP) | Engine |
| --- | --- | --- | --- |
| MP 200 D | 225 kVA / 180 kW | 200 kVA / 160 kW | P 086 TI |
| MP 275 D | 310 kVA / 248 kW | 275 kVA / 220 kW | P 126 TI |
| MP 300 D | 335 kVA / 268 kW | 300 kVA / 240 kW | P 126 TI-II |
| MP 325 D | 355 kVA / 284 kW | 325 kVA / 260 kW | DP 126 LA |
| MP 350 D | 400 kVA / 320 kW | 360 kVA / 288 kW | DP 126 LB |
| MP 400 D | 450 kVA / 360 kW | 410 kVA / 328 kW | P 158 LE |
| MP 450 D | 509 kVA / 407 kW | 460 kVA / 368 kW | DP 158 LC |
| MP 525 D | 585 kVA / 468 kW | 530 kVA / 424 kW | DP 158 LD |
| MP 575 D | 635 kVA / 508 kW | 575 kVA / 460 kW | DP 180 LA |
| MP 650 D | 705 kVA / 564 kW | 640 kVA / 512 kW | DP 180 LB |
| MP 700 D | 750 kVA / 600 kW | 685 kVA / 548 kW | DP 222 LB |
| MP 750 D | 830 kVA / 664 kW | 750 kVA / 600 kW | DP 222 LC |
Gensets in power range 780 - 2800 kVA with diesel engines Mitsubishi (1500 rpm)
| Genset type | Stand-by power (ESP) | Prime power (PRP) | Engine | Emission norm |
| --- | --- | --- | --- | --- |
| MP 800 M | 860 kVA / 688 kW | 780 kVA / 624 kW | S12A2 - PTA | none |
| MP 900 M | 975 kVA / 780 kW | 884 kVA / 707 kW | S12A2 - PTA2 | none |
| MP 1000 M | 1144 kVA / 915 kW | 1040 kVA / 832 kW | S12H - PTA | none |
| MP 1300 M | 1400 kVA / 1120 kW | 1300 kVA / 1040 kW | S12R - PTA | none |
| MP 1400 M | 1540 kVA / 1232 kW | 1400 kVA / 1120 kW | S12R - PTA2 | none |
| MP 1500 M | 1690 kVA / 1352 kW | 1540 kVA / 1232 kW | S12R - F1PTAW2 | TA Luft |
| MP 1750 M | 1900 kVA / 1520 kW | 1750 kVA / 1400 kW | S16R - PTA | none |
| MP 1900 M | 2100 kVA / 1680 kW | 1900 kVA / 1520 kW | S16R - PTA2 | none |
| MP 2100 M | 2300 kVA / 1840 kW | 2100 kVA / 1680 kW | S16R - F1PTAW2 | TA Luft |
| MP 2300 M | 2550 kVA / 2040 kW | 2300 kVA / 1840 kW | S16R2 - PTAW | TA Luft on request |
| MP 2400 M | 2650 kVA / 2120 kW | 2400 kVA / 1920 kW | S16R2 - PTAW-E | none |
| MP 2500 M | 2800 kVA / 2240 kW | 2550 kVA / 2040 kW | S16R2 - PTAW2-E | none |
Gensets in power range 80 - 770 kVA with diesel engines Volvo Penta (1500 rpm)
| Genset type | Stand-by power (ESP) | Prime power (PRP) | Engine | Emission norm |
| --- | --- | --- | --- | --- |
| MP 80 O | 94 kVA / 75 kW | 85 kVA / 68 kW | TD520GE | none |
| MP 80 O-3 | 94 kVA / 75 kW | 85 kVA / 68 kW | TAD550GE | EU Stage III.A |
| MP 100 O | 110 kVA / 88 kW | 100 kVA / 80 kW | TAD531GE | EU Stage II |
| MP 100 O-3 | 110 kVA / 88 kW | 100 kVA / 80 kW | TAD551GE | EU Stage III.A |
| MP 130 O | 144 kVA / 115 kW | 130 kVA / 104 kW | TAD532GE | EU Stage II |
| MP 130 O-3 | 144 kVA / 115 kW | 130 kVA / 104 kW | TAD750GE | EU Stage III.A |
| MP 150 O | 171 kVA / 137 kW | 155 kVA / 124 kW | TAD731GE | EU Stage II |
| MP 150 O-3 | 170 kVA / 136 kW | 154 kVA / 123 kW | TAD751GE | EU Stage III.A |
| MP 180 O | 200 kVA / 160 kW | 180 kVA / 144 kW | TAD732GE | EU Stage II |
| MP 180 O-3 | 200 kVA / 160 kW | 180 kVA / 144 kW | TAD752GE | EU Stage III.A |
| MP 200 O | 220 kVA / 176 kW | 200 kVA / 160 kW | TAD733GE | EU Stage II |
| MP 200 O-3 | 220 kVA / 176 kW | 200 kVA / 160 kW | TAD753GE | EU Stage III.A |
| MP 250 O | 275 kVA / 220 kW | 250 kVA / 200 kW | TAD734GE | EU Stage II |
| MP 250 O-3 | 275 kVA / 220 kW | 250 kVA / 200 kW | TAD754GE | EU Stage III.A |
| MP 325 O | 350 kVA / 280 kW | 320 kVA / 256 kW | TAD1341GE | EU Stage II |
| MP 325 O-3 | 350 kVA / 280 kW | 320 kVA / 256 kW | TAD1351GE | EU Stage III.A |
| MP 350 O | 385 kVA / 308 kW | 350 kVA / 280 kW | TAD1342GE | EU Stage II |
| MP 350 O-3 | 400 kVA / 320 kW | 365 kVA / 292 kW | TAD1352GE | EU Stage III.A |
| MP 375 O | 415 kVA / 332 kW | 380 kVA / 304 kW | TAD1343GE | EU Stage II |
| MP 375 O-3 | 415 kVA / 332 kW | 380 KVA / 304 kW | TAD1354GE | EU Stage III.A |
| MP 400 O | 455 kVA / 364 kW | 410 kVA / 328 kW | TAD1344GE | EU Stage II |
| MP 400 O-3 | 455 kVA / 364 kW | 410 kVA / 328 kW | TAD1355GE | EU Stage III.A |
| MP 450 O | 500 kVA / 400 kW | 455 kVA / 364 kW | TAD1345GE | EU Stage II |
| MP 450 O-3 | 506 kVA / 405 kW | 460 kVA / 368 kW | TAD1650GE | EU Stage III.A |
| MP 500 O | 550 kVA / 440 kW | 500 kVA / 400 kW | TAD1641GE | EU Stage II |
| MP 500 O-3 | 550 kVA / 440 kW | 500 kVA / 400 kW | TAD1651GE | EU Stage III.A |
| MP 600 O | 650 kVA / 520 kW | 590 kVA / 472 kW | TAD1642GE | EU Stage II |
| MP 600 O-3 | 650 kVA / 520 kW | 590 kVA / 472 kW | TWD1652GE | EU Stage III.A |
| MP 625 O | 700 kVA / 560 kW | 630 kVA / 504 kW | TWD1643GE | none |
| MP 650 O | 715 kVA / 572 kW | 650 kVA / 520 kW | TWD1644GE | none |
| MP 650 O-3 | 710 kVA / 568 kW | 645 kVA / 516 kW | TWD1653GE | EU Stage III.A |
| MP 700 O | 770 kVA / 616 kW | 700 kVA / 560 kW | TWD1645GE | none |
Gensets in power range 450 - 3400 kVA with diesel engines MTU / Rolls Royce (1500 rpm)
| Genset type | Stand-by power (ESP) | Prime power (PRP) | Engine | Emission norm |
| --- | --- | --- | --- | --- |
| MP 450 M | 505 kVA / 404 kW | 457 kVA / 366 kW | 10V 1600 G10F | EU III.A on request |
| MP 500 M | 560 kVA / 448 kW | 505 kVA / 404 kW | 10V 1600 G20F | EU III.A on request |
| MP 600 M | 655 kVA / 524 kW | 595 kVA / 476 kW | 12V 1600 G10F | none |
| MP 650 M | 725 kVA / 580 kW | 655 kVA / 524 kW | 12V 1600 G20F | none |
| MP 800 M2 | 880 kVA / 704 kW | 800 kVA / 640 kW | 12V 2000 G26F | TA Luft on request |
| MP 900 M2 | 1005 kVA / 804 kW | 910 kVA / 728 kW | 16V 2000 G16F | TA Luft on request |
| MP 1000 M2 | 1110 kVA / 888 kW | 1010 kVA / 808 kW | 16V 2000 G26F | TA Luft on request |
| MP 1150 M2 | 1255 kVA / 1004 kW | 1140 kVA / 912 kW | 16V 2000 G36F | TA Luft on request |
| MP 1300 M2 | 1400 kVA / 1120 kW | 1270 kVA / 1016 kW | 18V 2000 G26F | TA Luft on request |
| MP 1700 M4 | 1850 kVA / 1480 kW | 1680 kVA / 1344 kW | 12V 4000 G23 | TA Luft on request |
| MP 1900 M4 | 2050 kVA / 1640 kW | 1870 kVA / 1480 kW | 12V 4000 G63 | TA Luft on request |
| MP 2100 M4 | 2310 kVA / 1848 kW | 2100 kVA / 1680 kW | 16V 4000 G23 | TA Luft on request |
| MP 2300 M4 | 2530 kVA / 2024 kW | 2300 kVA / 1840 kW | 16V 4000 G63 | TA Luft on request |
| MP 2600 M4 | 2890 kVA / 2312 kW | 2600 kVA / 2080 kW | 20V 4000 G23 | TA Luft on request |
| MP 2800 M4 | 3080 kVA / 2464 kW | 2800 kVA / 2240 kW | 20V 4000 G63 | TA Luft on request |
| MP 2900 M4 | 3190 kVA / 2552 kW | 2890 kVA / 2312 kW | 20V 4000 G63 | TA Luft on request |
| MP 3100 M4 | 3410 kVA / 2728 kW | 3100 kVA / 2480 kW | 20V 4000 G63L | TA Luft on request |